CMI CD4 Strongroom Door & Frame Commercial Grade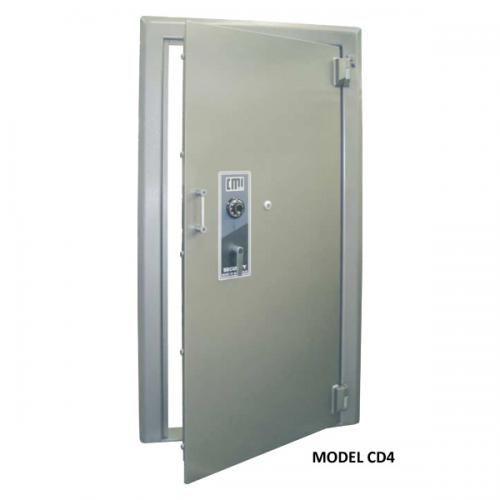 Brand
CMI Safes

SKU: L442
Product Description
FIRE, FORCE, DRILL & EXPLOSIVE RESISTING
DOOR: Total thickness 85mm. The "security" door provides a heavy steel front section supported by drill-resistant hardened plate over all vital lock areas, with glass operated relocking devices
BOLTWORK: Heavy 32mm diameter bolts of high grade steel provide three-way locking into the specially strengthened lock chamber sections at front and rear edges of the door
LOCKING: Digital lock as standard
FRAME: Heavy steel frame 6mm x 120mm withthreshold plate at bottom.
HINGES: Adjustable heavy duty with hardened pins on ball bearng axis (pre-lubricated).
FIRE RESISTANT: Fire pan fitted to rear of door with approved high fire resistance compound.
• Internal release mechanism standard
• Door may be ordered with either left or right hand hinging
• Door can be manufactured to suit custom size available upon request
• Digital combination, duress and time delay locks may be fitted as an optional extra
Commercial Grade CD4
CLEAR DOOR OPENING 1980mm x 860mm
CLEAR MASONRY OPENING REQUIRED 2060mm x 1020mm
Weight 410kg
When ordering please state if left or right hand hinging required and existing wall thickness.
| Model # | External Dimensions (HWD) | Internal Dimensions (HWD) | Weight (Kg) | Fittings | Price |
| --- | --- | --- | --- | --- | --- |
| CD4 | - | - | | - | 9407.20 |