CMI Mini Deposit Safe DEP2D Digital Lock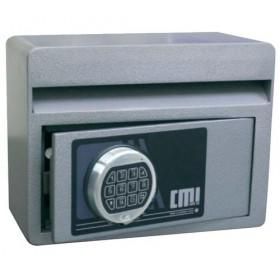 Brand
CMI Safes

Dimensions
Ext Dimensions (mm) H W D
240 x 315 x 155
Weight (Kgs)
23.00
SKU: L211
Product Description
MINI DEPOSIT SAFES are ideal for moderate security where multiple staff need to deposit money into the safe.
Features:
DOOR: Heavy 12mm steel plate with rear dog bar to ensure security even if hinges are cut through.
BODY: Heavy 6mm steel reinforced with steel bar all around front edges with 18mm x width of safe posting slot above door mounting.
MOUNTING: All models are provided with 2 x 15mm holes in back and base for fixing with 4 masonry anchors.
MODELS: Available in 3 different sizes, with the option of Key, Combination or Digital lock on all models.
OPTIONAL: Time Delay locking also available on Mini Deposit Safe.
Suggested insurable cash rating for Mini Deposit Safe is $3000.00
| Model # | External Dimensions (HWD) | Internal Dimensions (HWD) | Weight (Kg) | Fittings | Price |
| --- | --- | --- | --- | --- | --- |
| DEP2K | 240 x 315 x 155 mm | - | 23.00 | - | 851.84 |
| DEP2C | 240 x 315 x 155 mm | - | 23.00 | - | 1171.28 |
| DEP2D | 240 x 315 x 155 mm | - | 23.00 | - | 1171.28 |
| DEP3K | 315 x 315 x 360 mm | - | 39.00 | - | 998.25 |
| DEP3C | 315 x 315 x 360 mm | - | 39.00 | - | 1197.90 |
| DEP3D | 315 x 315 x 360 mm | - | 39.00 | - | 1197.90 |