CMI Sub Deposit Safe SUB 3A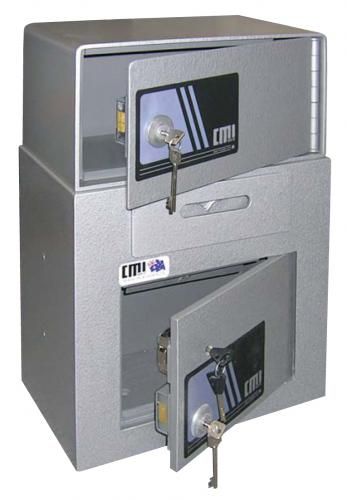 Brand
CMI Safes

Dimensions
Ext Dimensions (mm) H W D
595 x 388 x 235
Weight (Kgs)
88.00
SKU: L238
Product Description
CMI Sub safes are available in 3 different sizes.
SUB 3A is designed with a seperate change safe on top for staff, then a deposit drawer, which drops the takings into the bottom safe fitted with dual locks for the cash clearing company.
Features:
Change safe on top 200mm high
Drawer deposit chute 75mm high x 183mm wide x 120mm deep
1 x restricted key lock for cash clearing company
1 x standard key lock for safe user
$7,000 Cash Rating
MODEL SUB 3A
A single keylocking 200mm high 6mm plate change safe above a dual key
locking cash safe with an 75mm x 183mm drawer deposit chute above the door.
| Model # | External Dimensions (HWD) | Internal Dimensions (HWD) | Weight (Kg) | Fittings | Price |
| --- | --- | --- | --- | --- | --- |
| SUB 1A | 390 x 240 x 155 mm | - | 29.00 | - | 1189.91 |
| SUB 2A | 465 x 315 x 300 mm | - | 60.00 | - | 1344.31 |
| SUB 3A | 595 x 388 x 235 mm | - | 88.00 | - | 2154.89 |