HPC Kekab 80 Key Cabinet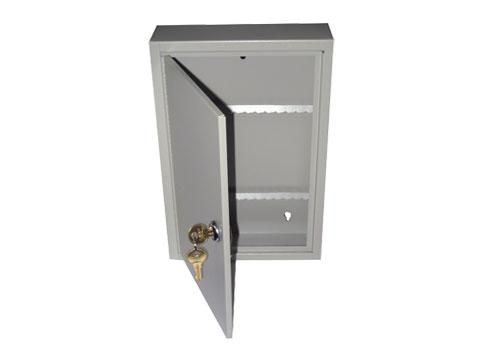 Brand
HPC

Dimensions
Ext Dimensions (mm) H W D
432 x 330 x 83
SKU: L414
Product Description
Single-Tag KeKabs - HPC's single-tag key security control system is designed to control and provide security for 8 to 730 keys. HPC KeKabs are ideal for home, store, or office use, where centralized or departmental key control is desired. They are designed to be mounted on a wall, near a desk or a work station.
Includes:
White Plastic Key Tags with bright nickel plated snap-hooks which can hold multiple keys on each snap-hook. The tags are numbered for easy identification.
Durable Steel Key Racks that are slotted to store key tags uniformly for immediate identification.
"Out Key" Control Tags that are made of yellow paper. They are used for accountability (to record information on loaned keys).
Lock Location Data which consists of an erasable lock location chart as part of the KEKAB-8 and numbered key control booklets with all other KeKabs®.
It comes with a key retaining 5-wafer cam lock.
Unique powder coat textured painting process which provides an attractive and very durable finish. The neutral sand color allows them to be hung anywhere.
Heavy Gauge Steel Construction with piano hinged doors and key panels provides a sturdy location to secure your keys.