CMI Commander Safe CR2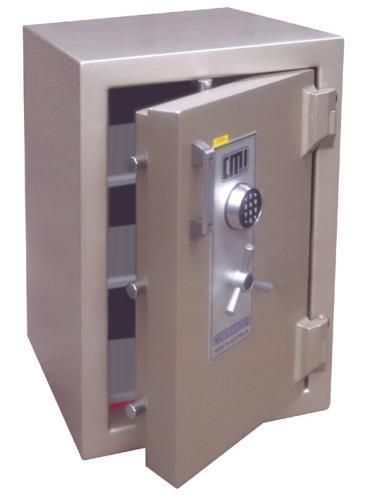 Brand
CMI Safes

Dimensions
No. Shelves
2
Ext Dimensions (mm) H W D
792 x 640 x 710
Int Dimensions (mm) H W D
610 x 457 x 432
Weight (Kgs)
710.00
SKU: L286
Product Description
Commander Torch And Drill Resisting
The design of the safes and materials used provide defence barriers resisting to:
Oxy-Acetylene attack
Drills and abrasive grinders
Explosives and force
Pneumatic and hydraulic tools
BODY: The body gives a minimum thickness of 90mm of high density refractory material bonded between inner and outer walls of specially reinforced steel to become a complete monolith.
DOOR: Total thickness 180mm including a defensive slab section of 100mm thick and contains alloy which has a proven record of outstanding resistance to all forms of attack as mentioned above.
BOLTWORK: Heavy 32mm bolts provide 4 way locking into reinforced sections of the 2 sides, top and bottom of the safe body.
INSURANCE COVER: Insurance surveyors have suggested $250,000 as a realistic rating of overnight holding of cash and valuables in an unsupported situation.
OPTIONAL: 115mm high lockable roll-out drawer can be provided to secure in the bottom of Commander safes at an additional cost.
ANCHORING: 2 x 20mm recessed holes are provided in all models for anchor mounting to floor.
LOCKING: A high quality LaGard Electronic Digital lock is fitted. A special glass-activated relocking device and mechanical relockers are provided within the door. Any chosen electronic or duress alarm system can be added to the safe if required.
FINISH: CMI Commander safes are available in attractive enamel durable finishes to suit office or home. Satin finish handles, locks and fascia panels complement the high quality appearance.
INTERNAL FITTINGS: All models come standard with two adjustable shelves.
| Model # | External Dimensions (HWD) | Internal Dimensions (HWD) | Weight (Kg) | Fittings | Price |
| --- | --- | --- | --- | --- | --- |
| CR2 | 792 x 640 x 710 mm | 610 x 457 x 432 mm | 710.00 | shelves: 2 | 6205.12 |
| CR3 | 940 x 640 x 710 mm | 762 x 457 x 432 mm | 790.00 | shelves: 2 | 7005.05 |
| CR4 | 1096 x 690 x 710 mm | 910 x 508 x 432 mm | 900.00 | shelves: 2 | 7919.45 |
| CR5 | 1096 x 792 x 862 mm | 910 x 610 x 585 mm | 1020.00 | shelves: 2 | 9104.04 |
| CR6 | 1250 x 792 x 862 mm | 1066 x 610 x 585 mm | 1180.00 | shelves: 2 | 9602.56 |
| CR7 | 1400 x 792 x 862 mm | 1220 x 610 x 585 mm | 1310.00 | shelves: 2 | 10462.87 |
| CR8 | 1550 x 792 x 862 mm | 1370 x 610 x 585 mm | 1520.00 | shelves: 2 | 11180.00 |
| CR9 | 1700 x 792 x 862 mm | 1520 x 610 x 585 mm | 1740.00 | shelves: 2 | 11952.38 |
| CR10 | 1865 x 794 x 866 mm | 1678 x 610 x 585 mm | 1750.00 | shelves: 2 | 12577.95 |