CMI Miniguard Security Safe MG4D DIGITAL LOCK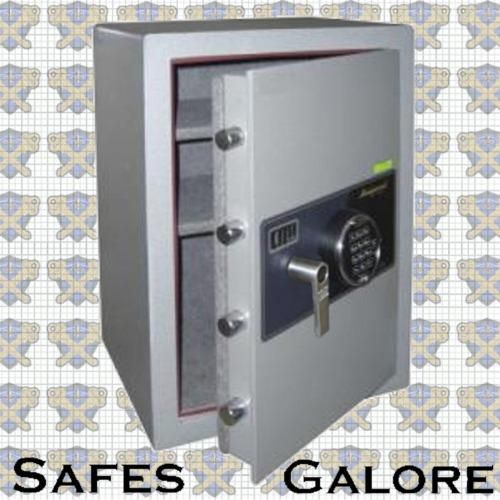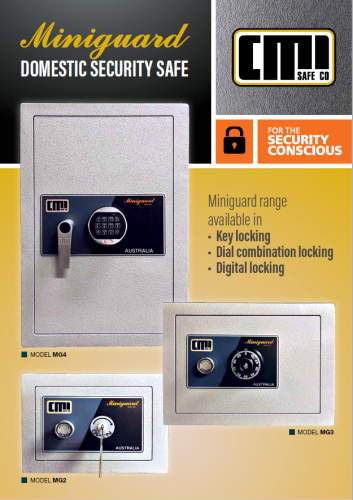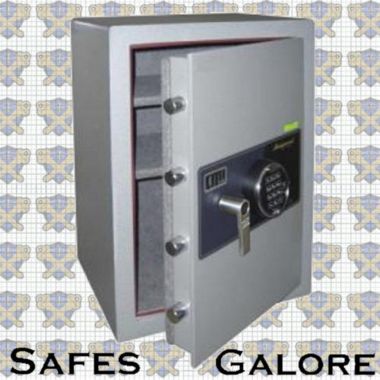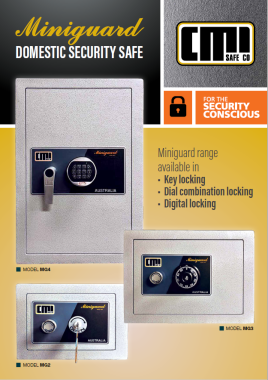 Brand
CMI Safes

Dimensions
No. Shelves
2
Ext Dimensions (mm) H W D
615 x 410 x 340
Int Dimensions (mm) H W D
570 x 350 x 250
Weight (Kgs)
65.00
SKU: L402
Product Description
Model MG4D with Digital Lock.
Features:
5 x 25mm Locking bolts with rear locking
Expanding fire seal around door frame
Digital lock
Internal light supplied
2 x adjustable and removable shelves
Bolt holes in base for installing
Designed to give 1/2 hour fire protection
Miniguard MG4D Safe can be viewed and picked up at Melbourne or Sydney warehouse
8mm Steel plate door and 4mm steel plate body.
Secondary relocker device fitted to door.
Recommended overnight cash holding for all models $10,000
| Model # | External Dimensions (HWD) | Internal Dimensions (HWD) | Weight (Kg) | Fittings | Price |
| --- | --- | --- | --- | --- | --- |
| MG2D | 250 x 340 x 315 mm | 210 x 300 x 220 mm | 27.00 | - | 702.77 |
| MG3D | 320 x 440 x 340 mm | 280 x 400 x 250 mm | 41.00 | shelves: 1 | 845.19 |
| MG2C | 250 x 340 x 315 mm | 210 x 300 x 220 mm | 27.00 | - | 702.77 |
| MG2K | 250 x 340 x 315 mm | 210 x 300 x 220 mm | 27.00 | - | 573.10 |
| MG3C | 320 x 440 x 340 mm | 280 x 400 x 250 mm | 41.00 | shelves: 1 | 845.19 |
| MG3K | 320 x 440 x 340 mm | 280 x 400 x 250 mm | 41.00 | shelves: 1 | 744.70 |
| MG4D Digital Lock | 615 x 410 x 340 mm | 570 x 350 x 250 mm | 65.00 | shelves: 2 | 966.31 |
| MG4C Combination Lock | 615 x 410 x 340 mm | 570 x 350 x 250 mm | 65.00 | shelves: 2 | 966.31 |
| MG4K Key Lock | 615 x 410 x 340 mm | 570 x 350 x 250 mm | 65.00 | shelves: 2 | 909.07 |