CMI Drug Safe DS2D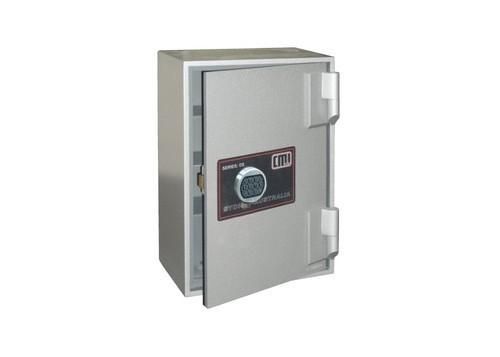 Brand
CMI Safes

Dimensions
No. Shelves
4
Ext Dimensions (mm) H W D
610 x 457 x 230
Int Dimensions (mm) H W D
590 x 437 x 210
Weight (Kgs)
89.00
SKU: L201DIGI
Product Description
CMI Drug safes are constructed from 10mm steel plate door and body, to Australian health and pharmaceutical specifications available in 4 different sizes.
CMI Drug Safe Model DS2D has 4 removable shelves and bolt holes for anchoring are provided in all models, and locking is provided by a high quality digital lock.
Built to fully comply with Australian Health Department specifications, including Queensland Regulations for Drug Safe construction.
| Model # | External Dimensions (HWD) | Internal Dimensions (HWD) | Weight (Kg) | Fittings | Price |
| --- | --- | --- | --- | --- | --- |
| DS1K | 457 x 305 x 230 mm | 437 x 285 x 210 mm | 53.00 | shelves: 3 | 991.20 |
| DS1D | 457 x 305 x 230 mm | 437 x 285 x 210 mm | 53.00 | shelves: 3 | 1327.94 |
| DS1C | 457 x 305 x 230 mm | 437 x 285 x 210 mm | 53.00 | shelves: 3 | 991.20 |
| DS2K | 610 x 457 x 230 mm | 590 x 437 x 210 mm | 89.00 | shelves: 4 | 1339.66 |
| DS2C | 610 x 457 x 230 mm | 590 x 437 x 210 mm | 89.00 | shelves: 4 | 1339.66 |
| DS2D | 610 x 457 x 230 mm | 590 x 437 x 210 mm | 89.00 | shelves: 4 | 1800.84 |
| DS3K | 1220 x 762 x 400 mm | 1200 x 742 x 380 mm | 328.00 | shelves: 5 | 3838.87 |
| DS3D | 1220 x 762 x 400 mm | 1200 x 742 x 380 mm | 328.00 | shelves: 5 | 4266.58 |
| DS3C | 1220 x 762 x 400 mm | 1200 x 742 x 380 mm | 328.00 | shelves: 5 | 3838.87 |
| DS4K | 1525 x 762 x 400 mm | 1505 x 742 x 380 mm | 392.00 | shelves: 5 | 5220.99 |
| DS4C | 1525 x 762 x 400 mm | 1505 x 742 x 380 mm | 392.00 | shelves: 5 | 5220.99 |
| DS4D | 1525 x 762 x 400 mm | 1505 x 742 x 380 mm | 392.00 | shelves: 5 | 5773.35 |