CMI Drug Safe DS4C Combination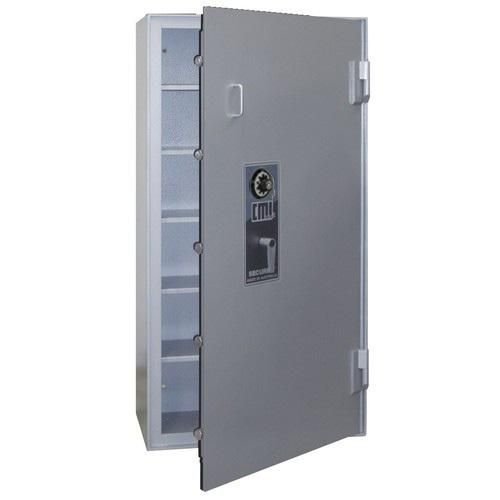 Brand
CMI Safes

Dimensions
No. Shelves
5
Ext Dimensions (mm) H W D
1525 x 762 x 400
Int Dimensions (mm) H W D
1505 x 742 x 380
Weight (Kgs)
392.00
SKU: L203C
Product Description
CMI Drug safes are constructed from 10mm steel plate door and body, to Australian health and pharmaceutical specifications available in 4 different sizes.
CMI Drug Safe Model DS4C has 5 adjustable shelves and bolt holes for anchoring are provided in all models, and locking is provided by a high quality combination lock.
Built to fully comply with Australian Health Department specifications, including Queensland Regulations for Drug Safe construction.
Optional Key or Digital Lock available at additional charge.
Models DS3 & DS4 have a framed door with retractable boltwork, turn handle and a minimum of 8 locking points.
| Model # | External Dimensions (HWD) | Internal Dimensions (HWD) | Weight (Kg) | Fittings | Price |
| --- | --- | --- | --- | --- | --- |
| DS1K | 457 x 305 x 230 mm | 437 x 285 x 210 mm | 53.00 | shelves: 3 | 991.20 |
| DS1D | 457 x 305 x 230 mm | 437 x 285 x 210 mm | 53.00 | shelves: 3 | 1327.94 |
| DS1C | 457 x 305 x 230 mm | 437 x 285 x 210 mm | 53.00 | shelves: 3 | 991.20 |
| DS2K | 610 x 457 x 230 mm | 590 x 437 x 210 mm | 89.00 | shelves: 4 | 1339.66 |
| DS2C | 610 x 457 x 230 mm | 590 x 437 x 210 mm | 89.00 | shelves: 4 | 1339.66 |
| DS2D | 610 x 457 x 230 mm | 590 x 437 x 210 mm | 89.00 | shelves: 4 | 1800.84 |
| DS3K | 1220 x 762 x 400 mm | 1200 x 742 x 380 mm | 328.00 | shelves: 5 | 3838.87 |
| DS3D | 1220 x 762 x 400 mm | 1200 x 742 x 380 mm | 328.00 | shelves: 5 | 4266.58 |
| DS3C | 1220 x 762 x 400 mm | 1200 x 742 x 380 mm | 328.00 | shelves: 5 | 3838.87 |
| DS4K | 1525 x 762 x 400 mm | 1505 x 742 x 380 mm | 392.00 | shelves: 5 | 5220.99 |
| DS4C | 1525 x 762 x 400 mm | 1505 x 742 x 380 mm | 392.00 | shelves: 5 | 5220.99 |
| DS4D | 1525 x 762 x 400 mm | 1505 x 742 x 380 mm | 392.00 | shelves: 5 | 5773.35 |